Hello! Welcome to my site!
My name is Sharon Soules & l have been showing for many years, starting with Persians, but fell in love with the Exotic breed.
Now l exclusively breed for that plush coat, wide open look, and that spunky, sweet personality!
l work mostly with Tabbies & Bicolours, including Silver Tabby.
Please take a tour and leave a note in my guest book if you have time, I hope you enjoy my babies.
~Please note that I have a new email address, so update your address books!~
~Thanks!~
Sign My Guestbook ~*~ View My Guestbook
Last Update:
December 12th, 2016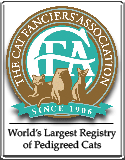 I don't have a links page at this time, but if you'd like to have my banner, I do have one.
My URL is: http://users.csolve.net/~ladiluck
Thank-you!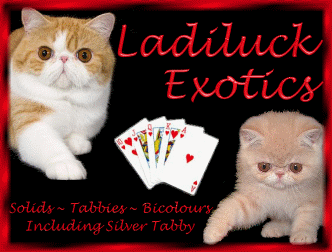 Website Created & Maintained by:
Tammy Swan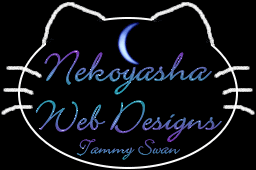 This entire site & all of it's contents are copyrighted by Sharon Soules (Ladiluck Cattery). All content is the property of Ladiluck Cattery, & any use of any material on this site requires that any user gets written permission from Ladiluck Cattery. Additionally, all photographs on this site are copyrighted by Sharon Soules & the respective photographers, and any potential users must get written permission from those photographers before any uses can be made. Please respect the graphics, designs, etc created by their authors (several custom graphics by Tammy Swan).
Copyright © 2007-2017 Ladiluck Cattery